Gluten Free Side Dish Ideas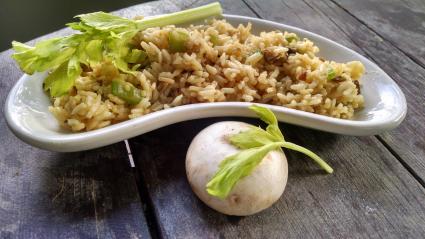 There are plenty of foods that are naturally gluten-free and make ideal ingredients for side dishes to complement your favorite meals. Here are some examples of how delicious and easy it is to make accompaniments to your gluten-free meals.
Rice Pilaf
There are a lot of grains that must be eliminated on a gluten-free diet. Rice, however, isn't one of them and it tastes great paired with salmon, chicken, steak and pork chops. It's also very versatile so you can mix and match ingredients when you make rice pilaf. Choose brown rice for an added dose of nutrients.
Ingredients
1 cup uncooked rice
2 cups gluten-free chicken broth
4 ounces button mushrooms, diced
1 clove garlic, minced
2 stalks celery, sliced
1/4 yellow onion, diced
2 teaspoons olive oil
Crushed red pepper
Directions:
Place the rice and chicken broth in a medium saucepan.
Bring to a boil and cook until all the liquid is absorbed, about 15 minutes.
Meanwhile, saute the mushrooms, garlic, celery and onion in the olive oil until soft and cooked through.
Add the cooked rice to the pan and mix well to combine.
Serves: 4
Twice Baked Potatoes
Potatoes are naturally gluten-free and they make a great side dish. This potato recipe wonderfully complements a steak or chicken entree. You'll love how easy it is to throw this recipe together and you'll enjoy the way it tastes too.
Ingredients
4 large baking potatoes
1/2 cup sour cream
4 tablespoons butter
1/2 cup shredded cheddar cheese, plus more for garnish
Salt and pepper
Directions
Pierce the potatoes with a fork.
Bake on high power in the microwave for about 10 minutes, or until the potatoes are baked through.
Preheat the oven to 350 degrees.
Cool the potatoes.
Cut the potatoes in half and scoop the flesh into a bowl, leaving the skins intact.
Add the sour cream, butter and cheese and mix well to combine.
Scoop each potato skin full of the mixture and sprinkle with salt and pepper.
Sprinkle with a bit more cheddar cheese.
Bake until the cheese melts, about 5 minutes.
Serves: 4
Lemon Parsley Mushrooms
This side dish is absolutely perfect for a steak dinner. The mushrooms complement the meat with a flavor that can't be beat. This side dish is easy to prepare and takes any meal to the next level.
Ingredients
8 ounces whole white button mushrooms
2 teaspoons olive oil
1 clove garlic, minced
Juice of 1 lemon
Handful fresh parsley, minced
Directions
Heat the oil in a medium saucepan.
Add the mushrooms and garlic and saute until the mushroom soften slightly.
Add the lemon juice and continue cooking until the mushrooms are tender and cooked through.
Stir in the parsley just before serving.
Serves: 4
Finding Safe Ingredients
In general, it's a good idea to choose whole, fresh foods when you shop gluten-free. Fruits, vegetables, meats and dairy foods are typically gluten-free and are ideal for cooking. At the same time, they are much healthier than many of the processed foods that aren't safe to eat on a gluten-free diet.
It's also important to read labels so you can be sure the items you choose are truly gluten-free. With that in mind, you can put together any number of side dishes that you'll love without worrying about your health.