Gluten-Free Christmas Cake
The holidays can be a difficult time to feel restricted by a gluten-free diet. If you need to avoid gluten due to a sensitivity or Celiac, consider making one of these Christmas cake recipes this year. Not only will you be able to indulge your sweet tooth around the holidays once more; your family and friends will be able to indulge and enjoy right along with you.
Gluten-Free Fruit Cake Recipe
This fruit cake is studded with lots of chewy fruit that has been soaked in Southern Comfort. Start the fruit two days before you make the cake for best results.
Makes one eight-inch fruit cake
Prep time: two days
Bake time: one hour, 45 minutes
Oven temp: 325 degrees
Ingredients
1/2 cup dried pineapple
1/2 cup dried cherries
1/2 cup raisins
1/2 cup dried apples
1/4 cup dried apricots, diced
1/4 cup dried blueberries
1/4 cup dried cranberries
2/3 cup Southern Comfort
1/2 cup butter
3/4 cup sugar
3 large eggs, separated
1 teaspoon vanilla extract
Grated zest of 1 lemon
Grated zest of 1 orange
1 cup gluten-free all-purpose flour blend
1-1/2 teaspoons baking powder
1/2 teaspoon salt
1/2 cup milk
1 cup chopped pecans
Instructions
Pour the Southern Comfort over the dried fruit and allow to soak, covered for two days.
Drain the fruit, catching and saving the fruit-soaked Southern Comfort in a separate dish.
Cream together the butter and sugar until fluffy.
Add in the egg yolks, vanilla and zest and continue mixing until well incorporated.
Add the dry ingredients, mixing gently until combined.
Fold in the fruit mixture.
Beat the egg whites in a separate bowl until stiff peaks form.
Gently fold the egg whites into the cake batter.
Add the pecans, mixing gently.
Pour the batter into a greased, eight-inch round spring form pan.
Bake at 325 degrees for one hour and 45 minutes.
Pour the saved Southern Comfort over the hot cake. Allow the cake to cool before removing from the pan.
Gluten-Free Spiced Apple Cake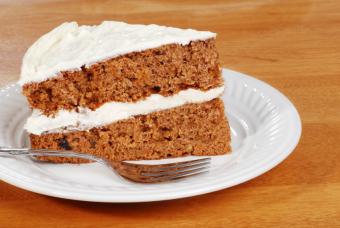 This apple-based cake is not too sweet, making it the perfect accompaniment to many meals.
Makes one nine-inch, two-layer cake
Prep time: 20 minutes
Bake time: 50 minutes
Oven temp: 350 degrees
Cake Ingredients
1 cups buckwheat flour
1 cup white rice flour
1/2 cup arrowroot flour
1/2 cup tapioca flour
2 teaspoons xanthan gum
1-3/4 teaspoons ground cinnamon
1-1/2 teaspoons baking powder
1/2 teaspoon salt
1/2 teaspoon ground allspice
1/4 teaspoon ground nutmeg
1/4 teaspoon baking soda
1 cup unsalted butter, room temperature
1 1/4 cups sugar
3/4 cup (packed) brown sugar
4 large eggs
2 teaspoons vanilla extract
1-1/2 cups unsweetened applesauce
2 medium apples peeled, halved, cored and cut into 1/3-inch cubes
1-1/2 cups finely chopped pecans
Cake Instructions
Whisk together the dry ingredients, minus the sugar, in a large bowl.
Beat the butter until fluffy and mix in both sugars. Beat until well combined.
Beat the eggs into the butter mixture one at a time.
Add the vanilla to the butter mixture and mix well.
Alternate adding in the flour and applesauce to the butter mixture until well incorporated.
Fold in the apple pieces and pecans.
Pour the cake batter into two nine-inch cake pans that have been lined with parchment paper.
Bake at 350 degrees for 50 minutes, or until set in the centers.
Allow to cool and assemble with cream cheese frosting.
Cream Cheese Frosting Ingredients
1 8-ounce package cream cheese, room temperature
1/2 cup unsalted butter, room temperature
1 tablespoon vanilla extract
3 cups powdered sugar
Cream Cheese Frosting Instructions
Combine all ingredients in a medium sized bowl.
Beat until well combined.
Spread on the cooled cake and top with chopped pecans and dried apple pieces.
Enjoy Your Holiday
Fruit-based cakes are served in homes throughout the holidays. Make yours one of them by serving one of these gluten-free options this Christmas time and enjoy your cake again.