Beginning to Eat Gluten Free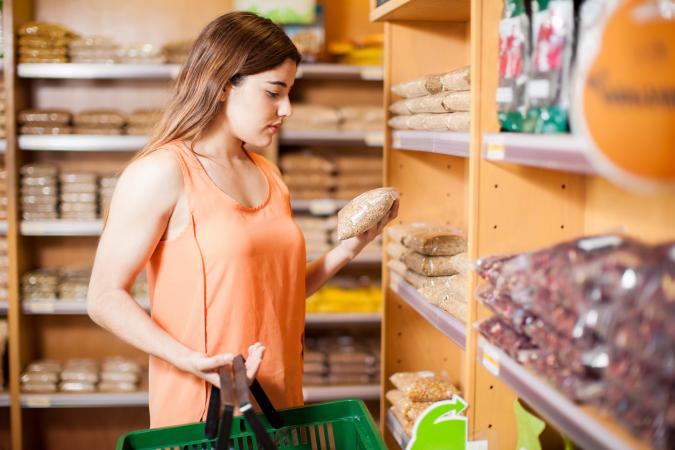 If you've been recently diagnosed with celiac disease or non-celiac gluten sensitivity, or if you've decided you want to eliminate gluten from your diet, you may be feeling overwhelmed. Gluten is in a number of foods, and there's a learning curve to avoiding it. However, with some preparation and a little know-how, it's very doable.
Plan Ahead
Eating gluten-free takes some planning. You'll need to do some prep work before you grocery shop or dine out.
Download an App
One of the best tools in your arsenal is your smartphone. Download an app that can help you determine whether foods are gluten-free. Some apps to consider include:
Educate Yourself About Sources of Gluten
You'll also need to learn about other sources of gluten, which can be hidden in many products and foods. Reading labels is essential to avoiding these foods, so prepare to spend some time checking for ingredients that indicate the product has gluten. Before you head to the grocery store, spend some time learning what you should look for on labels. The Celiac Disease Foundation has a fairly comprehensive list of foods and ingredients to avoid.
Because manufacturers change ingredients from time to time, it's good practice to double check the label every time you purchase a product. You'll also want to avoid products that are manufactured in the same plant as gluten-containing foods. While this is typically indicated on the label, it's not always so.
Contact Manufacturers
You may also wish to contact manufacturers of certain foods or visit their websites. Most now include gluten information in their Frequently Asked Questions. If you can't find the information there, email the manufacturer.
Find Gluten-Free Recipes
Gone are the days where you can eat any old thing. That's why planning meals ahead of time is valuable as you start on your gluten-free journey. You won't always require this level of planning, but in the beginning, you'll find it extremely helpful. Research gluten-free recipes and plan which gluten-free snacks you'll purchase, as well.
Make a List
From your meal and snack planning, make a grocery list and stick to it on your first several grocery outings. As you start to learn the products you can eat, you'll be able to shop more intuitively and do less prep.
Visit Restaurant Websites
If you're dining out, it's helpful to find out what's on a restaurant's menu before you go. Visit the restaurant website and take a look at the menu. If necessary, call ahead and ask about gluten-free options so you know what to order. When you arrive, tell your server you cannot eat gluten and ask for suggestions.
Enlist Support
It may be difficult for family or friends to understand why you're changing the way you eat so drastically. Therefore, it's helpful as you prepare to eat gluten-free to sit people down and explain why you are eating gluten-free and ask for their support. You'll also need to let people know when you come to their homes for meals that you cannot have gluten, or you can bring your own gluten-free foods to share.
Prepare Your Kitchen and Environment
You'll also want to prepare your environment and kitchen to avoid cross-contamination. Do this before you begin preparing gluten-free foods in your kitchen.
Avoiding Gluten
It's overly simplistic to say you should just avoid foods that contain gluten. While most people understand that certain basic foods contain gluten, like wheat, barley, and rye, drilling down into other gluten-containing foods and ingredients is a little more complex. Of course, you should avoid any foods containing wheat, rye, and barley.
Find Substitutions
It's hard to give up foods you love. Fortunately, for virtually any product that contains gluten, you can find gluten-free substitutes.
Oats: While not all oats contain gluten, those processed in a plant that also processes gluten-containing products may be contaminated. Therefore, you'll need to choose a brand of oats that is certified gluten-free, such as Bob's Red Mill gluten-free rolled oats.
Flour: You won't be able to use all-purpose flour any longer, although you can find many brands of gluten-free all-purpose flour, including King Arthur gluten-free all-purpose flour.
Pasta: Traditional pasta is made from wheat flour, but there are a number of terrific gluten-free pastas available, such as Barilla gluten-free pasta. You can also substitute rice, which is gluten-free.
Baked goods: The gluten-free baked goods industry is a rapidly growing market. At the grocery store, look in the freezer aisle, which is where you'll find most gluten-free baked items.
Bread: Gluten-free bread is getting better and better as more people eschew gluten. Try Canyon Bakehouse gluten-free bread or Udi's gluten-free bread.
Soy sauce: Traditional soy sauce contains wheat, so it isn't gluten-free. Fortunately, tamari soy sauce is gluten-free, and San-j makes an entire line of gluten-free soy sauce products, including teriyaki sauce.
Tortillas: Choose corn tortillas over wheat, or look for gluten-free tortillas and wraps from Rudi's Bakery.
Mustard: Many brands of mustard contain gluten. Annie's Naturals organic yellow mustard is gluten-free.
Vinegar: Most vinegar is gluten-free, except for malt vinegar. Replace malt vinegar with white, red wine, or apple cider vinegar.
These are just a few of the many substitutions you will learn to make as you continue to eat gluten-free.
Ready...Set...Go
With some education and careful preparation, as well as a pocketful of great substitutes, you're ready to begin your gluten-free journey. With time, you'll discover your go-to foods, recipes, and brands that will keep you feeling healthy and satisfied.