Gluten-Free Cracker Recipe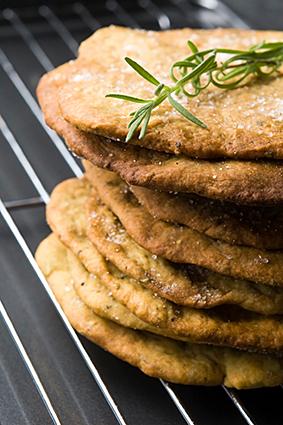 If you need to avoid gluten due to Celiac or a gluten intolerance, you don't have to give up things like crackers. This cracker recipe is easy to make, and will rival the taste of any cracker you may have once had containing gluten.
Savory Gluten-Free Crackers
These crisp crackers have a mild taste that goes well with numerous toppings.
Makes 35 crackers
Prep time: 10 minutes
Bake time: 18 - 20 minutes
Oven temp: 350 degrees F.
Ingredients
1/2 cup brown rice flour
3/4 cup almond flour
2 tablespoons ground flax
1/4 teaspoon garlic powder
1/2 teaspoon kosher salt
2 teaspoons Herbs de Provence
1/4 teaspoon baking soda
2 tablespoons sesame seeds
1/4 cup water
1/2 teaspoon olive oil
Instructions
Sift together the dry ingredients in a large bowl.
Add the water and oil and mix well.
Knead the dough with your hands until smooth.
Roll out to 1/8-inch thickness on a sheet of parchment paper
Use a pizza cutter to cut the dough into 1-1/2-inch squares.
Transfer the parchment paper onto a baking sheet.
Bake for 18 - 20 minutes at 350 degrees until lightly browned.
Let cool for 10 minutes before removing from the baking sheet.
Serving Suggestions
These crackers go well with numerous toppings. Try them any of these ways:
Topped with cheese
Topped with cheese and sausage
Spread with cream cheese
Eaten with a vegetable dip
Start Snacking
These gluten-free crackers are so fast and easy to make, you can throw them together any time you get a craving for a crisp and salty snack. Try these crackers the next time you're looking for a crispy treat and know that eating gluten-free doesn't have to mean missing anything.