Gluten-Free Chicken Recipes
While chicken does not contain any gluten by itself, many recipes rely on gluten-containing additives to help give poultry texture and flavor. This makes these products off-limits for those who are sensitive to gluten. However, if you need to avoid gluten due to an intolerance or sensitivity, you don't have to give up your favorite chicken dishes. There are many ways to add flavor and texture to chicken without using gluten.
Almond Breaded Chicken Recipe
These baked chicken breasts have a crunchy coating that is reminiscent of fried chicken, but with less fats and no gluten.
Makes four breasts
Prep time: 10 minutes
Bake time: 40 minutes
Oven temp: 350
Ingredients
Four boneless skinless chicken breasts
1/2 cup almond flour
1/4 cup olive oil
1 teaspoon white pepper
1 teaspoon cumin
1 teaspoon sea salt
1 teaspoon turmeric
Instructions
Pour the olive oil onto a plate and set aside.
Combine the almond flour and spices on a second plate.
Dip each breast into the olive oil, then roll it in the almond mixture.
Place each breast on a baking sheet and bake for 40 minutes at 350 degrees or until lightly browned and cooked through.
Chicken Chili Verde Recipe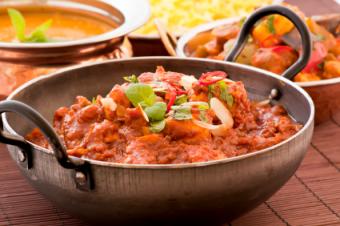 This slow cooker recipe is as easy to make as it is delicious to eat.
Makes six servings
Prep time: 10 minutes
Cook time: 8 - 10 hours
Slow cooker setting: low
Ingredients
1 pound boneless skinless chicken breast
1-1/2 bell peppers, chopped
1 large garlic cloves, minced
1 cans tomato paste
1 large onion, chopped coarse
1 seven ounce can green Chiles, minced
3/4 cup beef broth
1/4 cup lemon juice
1 teaspoon ground cumin
1 teaspoon chili powder
1 teaspoon salt
1 jalapeno, chopped fine
Instructions
Layer the ingredients in the slow cooker and stir well to combine.
Set the cooker to "low" and allow the chili to cook for 7-1/2 to 9-1/2 hours.
Use two forks to shred the cooked chicken and mix it in with the other ingredients.
Recover the slow cooker and let the chicken continue to cook for 30 additional minutes.
Rolled Stuffed Chicken Breasts
These rolled chicken breasts are perfect for company or a casual family meal.
Makes four servings
Prep time: 15 minutes
Bake time: 40 minutes
Oven temp: 375 degrees
Ingredients
1 pound boneless skinless chicken breast
4 slices GF ham
4 slices Swiss cheese
1 teaspoon ground white pepper
1 teaspoon sage
1 teaspoon salt
4 tablespoons Alfredo sauce
Instructions
Place the chicken breasts between two towels or inside a large plastic bag.
Beat the breasts with a rubber mallet or tenderizer until thin.
Lay the breasts on a baking sheet.
Layer a slice of ham, a slice of cheese and the spices over each of the breasts.
Roll the breasts up so the ham and cheese are inside.
Bake for 35 minutes at 375 degrees.
Remove the chicken from the oven and spoon the Alfredo sauce over the tops.
Return to the oven for an additional five minutes.
Enjoy Your Chicken Again
If you're tired of eating plain chicken for fear of contaminating it with gluten, be assured that you can enjoy flavorful chicken dishes without any added gluten. Try these recipes the next time you are looking for a gluten-free chicken dish and discover a new world of flavor.