Gluten-Free Thanksgiving Recipes
If you are looking for gluten-free Thanksgiving recipes, you will be pleased to learn there are plenty of choices for delicious holiday fare. With the right recipes, your meal will be so delicious you won't even miss the gluten.
Gluten-Free Gravy
It is simple to make your own gluten-free turkey gravy. All you need to do is substitute any gluten-free flour for the all-purpose flour called for in most turkey gravy recipes. Here is a simple gluten-free gravy recipe all of your guests will enjoy.
Ingredients:
Pan drippings for your roasted turkey
One-quarter cup brown rice flour (or any gluten-free flour)
Gluten-free chicken or vegetable stock
Method:
After roasting your turkey, transfer it to a serving platter.
Pour the pan drippings into a large measuring cup or gravy fat separator.
Scrape the browned bits from the bottom of the pan into the measuring cup.
Skim off the fat from the drippings. Reserve the fat for later use.
Pour one-quarter cup of the fat into a medium-sized saucepan.
Whisk in the gluten-free flour.
Add enough stock to the remaining drippings in the measuring cup to equal two cups of liquid.
Add the broth mixture to the flour mixture in the saucepan.
Cook over medium heat, stirring constantly until thick and bubbly.
Cook and stir for one minute more.
Season with salt and pepper.
Gluten-Free Stuffing
You can substitute gluten-free bread for gluten-containing bread in order to convert almost any dressing recipe to gluten-free stuffing. You can also use another grain to make your dressing, such as in a gluten-free rice stuffing.
Why not try something new this year? This delicious quinoa stuffing is not only gluten-free, it is vegan and free of all of the top eight food allergens. It can be enjoyed by vegetarians and those suffering from multiple food allergies who grace your holiday table this year.
Quinoa Stuffing Recipe
This recipe can be made the day ahead to ease up the amount of work needed to be done on the day of the big feast. Alternatively, the quinoa can also be cooked ahead of time and the recipe can be finished on Thanksgiving Day.
Ingredients:
Four cups water or vegetable stock
Three bay leaves
Two cups quinoa
One-quarter cup olive oil
Two small zucchini, peeled and diced
One butternut squash, peeled and diced
Two bunches green onions
One cup dried apricots, chopped
One cup dried cranberries
One cup fresh parsley
One Tablespoon dried thyme
Zest and juice of one lemon
Salt and pepper
Method:
Bring the water or stock to a boil.
Add the bay leaves and salt.
Add the quinoa. Reduce the heat. Cover and simmer for 15-20 minutes, or until all of the liquid is absorbed.
Remove quinoa from the heat.
Remove the bay leaves and allow to cool.
Heat three tablespoons of oil in a frying pan.
Saute' the zucchini and butternut squash until lightly browned.
Combine the sauteed vegetables and quinoa.
Drizzle on the remaining olive oil.
Stir in the green onions, apricots, cranberries, parsley, and thyme.
Add the lemon juice and zest.
Season with salt and pepper to taste.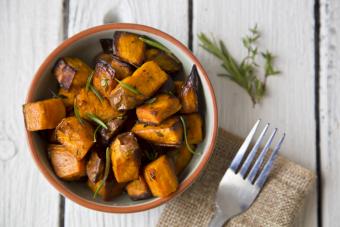 Favorite Side Dishes
Many of Thanksgiving's traditional side dishes are naturally gluten-free, such as sweet potatoes and cranberry sauce. Another favorite, green bean casserole, has gluten-containing ingredients but can easily be converted to a gluten-free casserole.
Roasted Mushrooms and Vegetables
If you'd like to skip bread stuffing altogether this year, you can use this delicious roasted vegetable side dish in place of the traditional stuffing. The vegetables are seasoned with traditional Thanksgiving flavors.
Ingredients:
10 ounces seasonal mushrooms (such as chanterelles or crimini), cleaned and cut into half-inch diced pieces
1 sweet onion, finely chopped
1 medium zucchini, cut into half-inch dice
2 large carrots, peeled and cut into half-inch dice
2 celery stalks, chopped
2 garlic cloves, finely minced
1 teaspoon dried thyme
1 teaspoon dried ground sage
1/2 teaspoon salt
1/2 teaspoon freshly cracked black pepper
3 tablespoons melted butter
Instructions:
Preheat your oven to 425 degrees. Line two large baking sheets with parchment.
In a bowl, toss all of the ingredients until the vegetables and mushrooms are coated with butter and herbs.
Pour the vegetables in a single layer on the prepared baking sheets.
Bake in the preheated oven for 35 to 45 minutes, until the vegetables are golden. Stir the vegetables every 10 minutes, and rotate the baking sheets halfway through cooking.
Desserts
Pumpkin pie is the traditional Thanksgiving dessert, but this presents a problem for people who don't eat gluten. Fortunately, you can purchase a pre-made gluten-free pie crust, or you can bake your pie in an almond flour crust. You can also make a pie crust using gluten-free flour.
Pumpkin Custard With Maple
You can also choose to opt out of the pie crust altogether, making this simple but delicious maple pumpkin custard.
Ingredients:
1 (15 ounce) can pumpkin puree
1/2 cup milk
1/2 cup pure maple syrup
3 whole eggs
1 egg yolk
1 teaspoon cinnamon
1/4 teaspoon fresh grated nutmeg
1 teaspoon ground ginger
1/4 teaspoon ground cloves
Pinch of sea salt
Instructions:
Preheat the oven to 350 degrees.
In a large bowl, whisk together all ingredients until they are smooth.
Pour the mixture into eight six-ounce ramekins, using a damp cloth to wipe the edges of the ramekins clean.
Put the ramekins on a baking sheet and bake in the preheated oven for 25 to 35 minutes. The custards are done when the custard has set around the edges and still has a slight jiggle in the middle.
Remove to wire racks to cool until room temperature. Refrigerate, covered, overnight before serving.
Other Gluten-Free Thanksgiving Recipes
There are plenty of recipes to choose from on the Internet. Celiac.com offers many recipes and tips for creating a successful gluten-free holiday spread. Even NPR has some great gluten-free Thanksgiving recipes to try.
Preparing a gluten-free holiday feast does not have to be an overwhelming chore. If you do your research well in advance, you will find that you will be amply prepared to create the most delicious Thanksgiving feast ever!