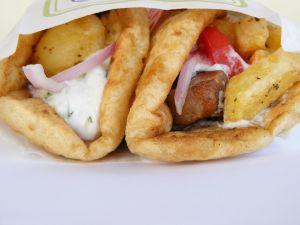 There's no reason not to enjoy your favorite gyros or lunch recipe with gluten-free pita bread. A few simple gluten substitutions will make a pita bread which is tasty and good for you. Making pita bread is not time consuming, so you can soon be enjoying this flavorful and nutritious treat.
Gluten Free Flours
With the ready availability of gluten-free flours, you can easily collect the necessary ingredients for gluten-free foods. Like other bread recipes, you can create your own version of pita bread for your particular needs. This way, you can create a recipe which complements your meal.
There are several gluten-free flours on the market. You can use a blend of flours to create a unique taste and create a tenable baking consistency.
Your pita bread recipe will include a base of flour, starch, and a leavening agent. The choice of flour will affect the density or elasticity of the final product. Some flours such as white rice flour or tapioca flour give pita bread a light, airy quality.
Heavier flours such as nut meals give pita bread extra texture. They may also lend some added flavor to your bread. You can also use medium-weight flours in your blend such as amaranth flour or sorghum flour. Coconut flour can lend a slight sweet taste to your pita bread.
To create nutritious pita bread, use a combination of lighter flours and denser nut-based flours that possess healthful omega-3 fatty acids. Lighter flours compensate for heaviness and help pita bread rise. Alternatively, you can use a commercial blend of flours such as Bob's Red Mill or Pantry Beth's All Purpose Flour. You want to create a pita bread which is relatively light so it will be easier to split after it is baked.
Pita Bread Recipe
Basic pita bread ingredients include:
Gluten-free starches which you may already use regularly such as xanthan gum and cornstarch.
Gluten-free flour of your choice
Eggs
Yeast
Warm water
Extra ingredients such as sugar and olive oil can add some nice nuances to your pita bread.
Directions
Make pita bread like other bread recipes by activating your yeast with warm water.
Mix dry ingredients together in another bowl, making sure they are well blended.
Add wet ingredients to the dry ingredients and blend.
Turn out your dough into another bowl coated with oil. You can use a cooking spray for its ease of application.
Allow dough to rest.
When ready, divide dough into equal portions based on the number of servings. Roll each bit of dough into a circle and bake.
Online Recipes
There are several recipes available online. Some of them illustrate how creative you can get with your recipe. They also take advantage of the flavor your choice of flour may add to your pita bread. Try one of these, or use them as inspiration for creating your own pita bread:
Gluten-Free Pita Bread
Don't feel like baking? There are also a couple of brands of pre-made pita bread on the market, though not many, unfortunately. Not all brands may be available in your area.
Making your own pita bread is a good way to add fiber and extra nutrients to your gluten-free diet. You can make a bread which uses ingredients to add extra flavor to your favorite sandwich filling recipe. Unlike other bread recipes, pita bread takes relatively little time to make since you don't have to wait a long time for the bread to rise.